Jim Rohn And The New Challenge To Succeed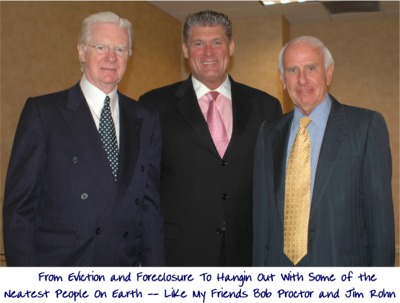 Before he passed away in December 2009, Jim Rohn had influenced more than 5 million people in all corners of the world. He was counted as a mentor by thousands including the likes of Tony Robbins, Les Brown, Mark Victor Hansen and others.
Jim was one of the most powerful and memorable listening experiences ever because he could take timeless, ageless principles and present them in such a simple way.
Tony Robbins, who first met Jim Rohn when he was 19-years old, said Jim, "had a positive impact on me at a time in my life when I was first forming the philosophies that guide me today."
Listen to some of that practical wisdom now:
Jim Rohn and Friends On How to Overcome Procrastination and Fear & Doubt...
Some of Jim's best known lessons include:

The Five Major Pieces of the Life Puzzle


How to Fine Tune Thinking Habits


How to Develop an Educated Attitude


Why Success is Doing


Discovering the 'Bottom Line'


The Art of Living Well


The Power of Personal Development


How to Become More Than You Are


Attracting More of What You Want


How to Make the Changes to Become More Than Average


Personal Skills to Reach Your Potential


The Day That Turns Your Life Around


Examine the Incredible Effect of Emotions on Your Life


Turning Your Emotions Into Profit and Activity


An Extraordinary Challenge to Be Successful in All the Dimensions of Your Life
One of Jim's best known and most popular programs was a recording he did more than 30 years ago, The Challenge to Succeed. Five inspirational topics guide the participant through self-evaluation and commitment, including: the five major pieces to the life puzzle, the power of personal development, the fundamentals for prosperity and success, how to win the battle of the mind, attitude change and the day that turns your life around.

An updated version of those topics, a new Challenge to Succeed as it were, is included here...
---
"The Most Comprehensive Training Package Ever Created Will Help You Earn More Money, Enjoy Better Relationships And The Life of Your Dreams."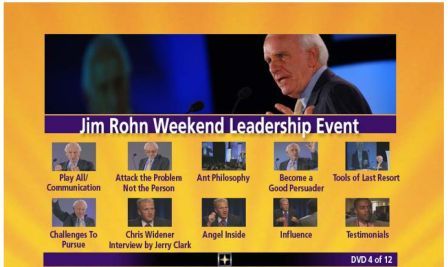 How'd you like to sit in your favorite chair and enjoy a weekend of Jim Rohn, Brian Tracy, Denis Waitley, Charlie "Tremendous" Jones?
You'll find them and lots more in this special DVD/CD recording of Jim Rohn's best weekend event, aptly name the Jim Rohn Weekend Leadership Event.
See the Jim Rohn Tribute Video and more...

In more than 35 years of studying, and now teaching personal development, I have never seen a more complete product that will help people earn more money, develop better relationships, live healthier and dream bigger.

Since I was at the event where it was recorded I saw it come together. And it is just as 'electrifying' as that incredible event was. The six cameras (it was filmed by a Hollywood film crew) and the microphones captured Jim, Brian, Denis and the others at the very best performance I have ever seen them do. It rocked the live audience and it will rock you! People would leave the room after each session shaking their heads in amazement --and it continued for the full three days of the event. If you could only have ONE program in your library -- this is hands down the one to have.
---

Here's a Youtube video review of Jim Rohn's first Kindle book
Buy this and other Jim Rohn books at Amazon.com
---