T
ired of the bad habits that are causing you pain... ruining your health... hurting your loved ones... damaging your career... costing you money... or just plain old wasting your time? Then keep reading!
The ancient writers of the Talmud asked, "Who is a mighty person?" and answered, "He who can control his inclinations or character traits." And what a profound saying that is.

Whether it's trying to lose a few (or many) pounds, accomplish a long-held goal or build your business, success or failure almost always hinges on how well we overcome ourselves. Most of the time we rationalize away our failure. Of course, the word rationalize is really two words – rational lies. And the biggest rational lie we generally tell ourselves is that our failure was due to some person, event or circumstance outside of ourselves. And almost always, the TRUTH is the failure was due to a fault on the inside.

Each of us develop over time a set of traits and habits which make up our character. Some of these habits make us more effective in life (and in different areas) while others cause us grief and misery. The good news is that as human beings we have a choice. We can work on ourselves in order to master these habits, thus becoming more effective in all aspects of life.
He's On The US $100 Bill Today Only Because He Learned That Willpower Wasn't The Way to Success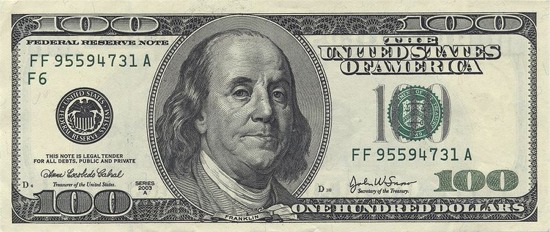 Over 226 years ago, an American sage by the name of Benjamin Franklin changed his life by devising a method in which he could break some of his worst habits and turn them into some of his best ones.

Here's how it began for Dr. Franklin. The following is in his own words, from his book, Benjamin Franklin: The Autobiography.

"It was about this time I conceived the bold and arduous project of arriving at moral perfection. I wished to live without committing any fault at any time; I would conquer all that either natural inclination, custom, or company might lead me into."

"While my attention was taken up and care employed in guarding against one fault, I was often surprised by another. Habit took the advantage of inattention. Inclination was sometimes too strong for reason. I concluded at length that the mere speculative conviction that it was our interest to be completely virtuous was not sufficient to prevent our slipping, and that the contrary habits must be broken and good ones acquired and established, before we can have any dependence on a steady, uniform rectitude of conduct. For this purpose I therefore contrived the following method."

So, what was it in his quest for moral perfection that Dr. Franklin quickly discovered? Basically, that it wasn't all that easy to simply make a decision and have the results happen just because you want them to. As human beings we get used to doing things in a certain way. Those ways – those traits – become habit-forming. And, once they become a habit, whether positive or negative, they become very difficult to break. Perhaps impossible to break without a method or system.

Dr. Franklin apparently thought he could, through superior will-power, simply get rid of bad habits or character traits, and take on good ones instead. He found, however, that it didn't quite work that way. And most of us have discovered that same thing at one time or another.
America's Best Inventor Also Discovered This Little Known System That Easily Transforms Bad Habits Into Good Ones

Of course, being the brilliant man and inventor he was, he invented a system that would enable him, and many others after him, to actually break those bad habits and negative character traits, and turn them into positive, life-enhancing ones. And this amazing system works with a minimal amount of willpower.

Five years ago best-selling author Bob Burg (Endless Referrals, Winning Without Intimidation) studied and then followed Dr. Franklin's system and experienced the same transformation in his life that Franklin had three centuries earlier.
Realizing that if Franklin's system could be easily applied in his life, he knew with a little 21st-century tweaking that anyone, anywhere would be able to tap into the power that Franklin discovered in the late 1700's. Now for the first time, that system is available in a four-session seminar recorded with a live audience.

Here's just a small part of what you can begin to put to work TODAY:
The foundation of all bad habits and how to overcome it

Master any characteristic in your life you choose


Why willpower isn't enough to break bad habits and what works better than willpower



How to transform your life and yourself into a disciplined, success machine

The key habits to greatly increase your earning potential

What is the right support system and how to create it

How to engage in a healthy change of your negative thoughts and feelings

The secret to dramatically improve your personal relationships

Passing along this life-enhancing information to your children


How to become a self-fulfilling prophecy that will cause your family and friends to marvel when they see the remarkable changes




And much, much more.
Using the proven system perfected by Franklin and adapted for the 21st Century by Bob, you'll see amazing improvement in all areas of your life by focusing on the specific traits that Franklin identified. Even a small improvement in these areas will bring a dramatic increase in success for most people.
Here are the 13 Habits you'll learn to master:
Habit #1 Appreciation (Or Gratitude) - Notice the blessing in everything, big and small. Dwell on the beauty in all I see, hear, touch, taste and smell. Realize that everything is a gift from the Almighty and is put there in order to enjoy and learn from.

Habit #2 Positive Speech - Judge the value of my words before I speak. Speak only what may benefit others and myself. Avoid evil speech/gossip.

Habit #3 Tranquility, Peace, Patience - Interpret everything quietly without undue confusion, excitement, or anger. Be not disturbed at trifles or at accidents common or unavoidable. Whatever is happening in life, be patient. Determine the lesson to be learned in every challenge in order to become elevated. Control anger.

Habit #4 Righteousness - Do unto others as you'd have done unto you, and as they desire to be done unto. Wrong none by doing injuries. Be just by accepting my duties and responsibilities.

Habit #5 Gentleness - The words of the wise are spoken softly and peacefully.

Habit #6 Respect/Honor Others - Be extremely careful with the honor and feelings of others. Strive always to make the other person feel good about himself/herself.

Habit #7 Physical Health - Exercise daily and eat with health and moderation.

Habit #8 Quickness - Do all I need (or have) to do without wasting time (procrastination) and with maximum productivity per moment. Cut off all unnecessary actions. Focus.

Habit #9 Resolution - Resolve to perform what I ought/have chosen to perform, without fail. Act with consistency, as well as persistency. Be diligent.

Habit #10 Order/Cleanliness - Keep all living and working environments both clean and in order. Be organized. Clean, file, straighten up as soon as necessary and right away. A place for everything and everything in its place.

Habit #11 Thrift/Frugality - Use money wisely and for the benefit of all (to do good for others and myself) and with no waste.

Habit #12 Truthfulness - Be truthful in all that I say (based on motivation/intent).

Habit #13 Humility - Understand that I have great ability, but that that ability is a gift from the Ultimate Source of all. Recognize my own weak points in order to improve upon them, but do not dwell on the faults of others. Be a servant-leader.
But even more importantly, once you've learned this method of personal mastery, you'll be able to use it to change any trait or habit you desire. This is a dynamic "hands-on" program that not only teaches you why -- it teaches you HOW!
Here's what people are saying about
Conquer Yourself! and Bob Burg

It is absolutely incredible how you take concepts and put them into words. I have had several light bulb moments on your calls! And I am just amazed at some of the concepts you mentioned that we deal with every day and you verbalized the ideas of these concepts, meanwhile placing a whole new perspective on the way we should really perceive these 'concepts'.

Teri L. Taylor
Maryland


You've cornered the market on the most FANTASTIC information available for a person to be, live in and have the excellence they were created for. Your program will truly change lives! I believe it's the core to team building, professional accomplishment, managing a staff, a home and yourself.

This program will help employers keep employees. It will help parents be better at their responsibility as well as give them the tools to raise productive, happy, healthy children and grandchildren. It will be a direct influence on companies building greater profits and growing to the next level. It will also help us to simply be better people.

What a gift this program will be to anyone who listens, studies, learns and lives it. This information is what success and happiness are made of!"

Donna Krech,
Founder, Thin and Healthy Weight Loss Centers and Victory Management
Company
Lima, Ohio


I am a school counselor and am using your Traits study with my school. It works so well with our school wide Character Program. I highly recommend the Trait of the Week focus for schools and staffs.

Doreen J. Hutton, LPC
School Counselor
Slaton TX


The material was great, made more so by your wonderful presentation style. You are so right in recognizing that most of us need a system to bring about the changes we would like to make in ourselves. I really like your habit of defining the terms that you use.

Debbie Bell
Oklahoma City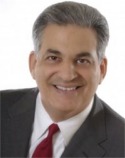 Bob Burg is an internationally known author and speaker who is best-known for sharing information on two topics vital to the success of today's business person. They are, "How to Cultivate a Network Of Endless Referrals" and "The Art of Positive Persuasion." Bob has spoken for corporations and associations internationally, including fortune 500 companies, franchises, and numerous direct sales organizations.

He has been on the national rally circuit, sharing the platform with legends such as Zig Ziglar, Brian Tracy, Denis Waitley, CNN's Larry King, Today Show's Willard Scott, Radio Legend Paul Harvey, Mary Lou Retton, Coach Lou Holtz, the late Og Mandino, former U.S. President Gerald Ford, and many others.

His critically acclaimed book, Endless Referrals: Network Your Everyday Contacts Into Sales has sold over 200,000 copies and continues to be used as a training manual for top sales organizations throughout the world. His latest national bestseller, The Go-Giver has been heralded as a new business classic. It's been translated into 18 languages and is his fourth book to top the 100,000 copies sold mark.


"I'll Even Guarantee Your Success!"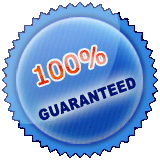 Just to take all the fear out of it for you, I've decided to guarantee my course with 100% money back guarantee. I really thought hard about this. At first I didn't think I should give you any guarantee

. After all, if you follow the easy step-by-step you can't help but be successful.

If you don't get up off your duff and go do something with it that's your problem.

But I knew that some people would whine and complain and say, "It's not guaranteed. So what if it doesn't work for me?"

Well, you know what? In a lot of cases it's not going to work for people. Some people are lazy and they're just not going to do anything. But for the people who are willing to do something and take my course I can almost guarantee their success.

So here what I'm willing to do. I'm going to guarantee my course 100%. I'm going to give you a full year to return it anytime you want for 100% refund. That's a full year. Even if you return it on the 365th day, I'll give you a full refund on the course.

If you go through the whole course and you decide you don't want to get off your tush and go do something you can still get your money back.

Simply send us an email and we'll send you return instructions.

So if you've had a "bad" habit in the past of letting opportunities pass you by because of your fear that it wouldn't work for you, then you can break that habit right here, right now.
Order By and collect these bonuses:





Winning Without Intimidation $17.97 Value

Bob's best-selling Winning Without Intimidation in a convenient eBook format shows you how to:

Get What You Want, When You Want It, And From Whom You Want It... Including The Difficult People You Come Across On A Daily Basis

Sells Everyday for $17.97 - Yours FREE!

Winning With People $29 Value

All of life's successes come from initiating relationships with the right people and then strengthening those relationships by using good people skills. No one teaches us how to do that better than Bob Burg in this popular downloadable mp3 audio.

$29 Value - Yours FREE!


The Common Denominator of Success $9.95 Value

The special eBook version of an all-time classic is one of Bob Proctor's favorites. Albert E.N. Gray shares with us the "simple" but rare habit of ALL successful people. And he explains how we can all learn it and use it to achieve our own Success.

$9.95 Value - Yours FREE!