For more than 15 years, Randy Gage has been helping people transform self-limiting beliefs into self-fulfilling breakthroughs to achieve their dreams. His motivational story of rising from a dishwasher in a pancake house, to a self-made multi-millionaire has inspired millions around the world.
You've likely read or heard about some of Randy's story, but let me fill you in on some specifics. He was born to a single mother of limited means, who raised three children by herself. Along the way Randy made some poor choices...
By the time he was a teen, he was selling dope and well down the path to drug and alcohol abuse. He was expelled from high school in the ninth grade. At 15 years old, he went to jail for armed robbery.
While he was in jail, a visiting teacher took an interest in him, and saw a potential that no one else had seen before. He told Randy he was capable of doing great things. Randy took that message to heart, and made a decision to turn his life around…
And boy did he ever.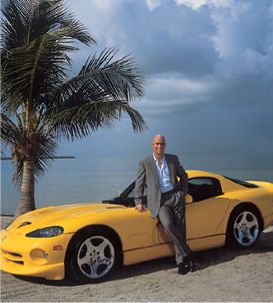 Today Randy is the picture of health, in better shape at 44 than he was at 25. He ended his pattern of dysfunctional relationships, and now lists the people in his life as among his greatest treasures. He's a multi-millionaire and philanthropist, serving and supporting a variety of causes. He drives his dream car, lives on the ocean in Florida, and has two walk-in closets packed with funky designer clothes. Now he travels the globe, following the sun and his whims, living a life most people only dream about.
And Randy is a true scholar in the field of prosperity and abundance. He is the author of, "37 Secrets About Prosperity," "Accept Your Abundance," "Prosperity Mind," "The 7 Spiritual Laws of Prosperity," and "101 Keys to Your Prosperity." His "Prosperity" audio album is required listening for anyone serious about success.
This four-part Tele-Seminar, recorded before a live audience, is fully downloadable (or purchase the files on a convenient CD). In Prosperity Mind, Randy reveals how you can transform any limiting beliefs you have into true prosperity consciousness, and then manifest wealth in your life.
Randy distills the difference between how multi-millionaires think and how broke people do. And make no mistake – there are definite, tangible differences. People who are healthy, happy and successful do not think the same way poor, sick and unhappy people do. Nor do they act the same way.
Randy will teach you the thought process for success and happiness, and how to discover and eliminate any self-defeating beliefs you have that are holding you back. He will show you how to break out of the prison of poverty and lack, and manifest wealth. You'll discover:
Why you're supposed to be rich;
How to identify self-limiting beliefs that hold you back;
The 5 common expressions you probably use every day, which program you for failure on a subconscious level;
How you can actually program your own subconscious mind for success;
Secrets to expand your prosperity consciousness so you feel comfortable with great wealth;
Ways to identify and eliminate negative patterns and dysfunctional relationships;
Positive visualization techniques to improve your ability to accomplish things; and,
How to create the mindset of a multi-millionaire!
During this tele-seminar I asked him to share his jaw-dropping story of how he made over $500,000 in twenty minutes! You'll be amazed at the simplicity of his answer! If you could pick anyone in the world to be your success coach and mentor – you'd be hard pressed to find a better choice than Randy.

Listen to a sample from Session Three


"When I first met Randy I was broke, miserable, my health was on a downward

spiral-and I didn't even realize it!

As a direct result of Randy Gage's prosperity coaching, I now-at the age of

30-have great relationships, drive a Viper, create wealth from my pool and
take monthly vacations. I'm healthy, happy, and rich!

Here's the best part. Randy can do the same for you-if you allow prosperity

into your life. He will show you how-step by step, smile by smile, dollar

by dollar.

If you want the best of what life has to offer, devour everything Randy has
to offer on Prosperity-do it TODAY!"

- Art Jonak, Houston, TX

Four Sessions to living a life of Prosperity:

Session One: The Real Truth About Getting Rich
Session Two: The 7 Spiritual Laws of Prosperity
Session Three: Principles of Wealth Building
Session Four: Manifesting Your Prosperity

What others have said:

"After this Tele-Seminar, we're now changing negative thought patterns that were stopping us from going really fast. Now, we're sure that our growth in business will be like 10 times faster! And this is unbelievable!"
Roxana M.F., Mexico
"This program has changed my thinking and my life forever!"
James Young, United Kingdom
"Randy Gage has a wonderful way of teaching timeless principles. His positive energy and results are inspiring. I am grateful for the opportunity to be influenced by his training."
-S. Tanner-Brown, Salt Lake City, UT


"I couldn't see that I needed to change my thinking, until I listened to these tapes. Randy, you are so wise! Thanks!"
-T. Love, Jonesville, LA

"I've taken on everything you say about prosperity thinking, and it really works. There are blessings happening all around me. I'm very grateful that I took the coaching & ordered these tapes. Thank you."
-N. Brullo, Aston, PA

"The prosperity series reinforces principles I have been taught and lived by throughout my life. The information in them has taught me how to put these principles together and extend them to manifest wonderful prosperous blessings in my life."
-A. Bliss, West Jordan, UT

"There have been many big happenings in my life lately. I was aware that I was the manipulator, however, I never fully appreciated the power within. Thank you for letting me know (verifying for me) what I already knew but was not ready to accept responsibility for. Thank you."
-D. Ploughman, Round Rock, TX