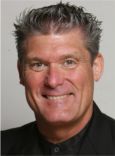 Vic Johnson
Internet Infopreneur
Founder
AsAManThinketh.net
Vic Johnson is a Melrose, Florida-based Internet infopreneur, author, motivational speaker and founder of a host of personal development websites.

Formerly the founder of a corporate and political communications firm, he has provided strategic consulting and planning to Governors, Members of Congress, Fortune 500 companies and non-profit organizations. His non-traditional strategies have been highlighted by major news outlets like the Miami Herald, Washington Post and national trade publications.

Vic bought his first business at the age of 23 and several years later became one of the early pioneers of the "quick-lube" business, building the first locations in Florida. His latest ventures have been Internet-based where he has quickly demonstrated his entrepreneurial acumen. Talk show host Mike Litman called one of his sites, AsAManThinketh.net, "the hottest personal development site on the Internet today." Subscribers hail from more than 90 countries and have downloaded over 300,000 eBook copies of James Allen's classic. His other websites are found at MyDailyInsights.com, ClaimYourPowerNow.com, mp3Motivators.com, Goals-2-Go.com and VicJohnson.com.

Vic is the host of Goals 2 Go, a television show on The Success and Training Network (TSTN). He is the author of the No Dream Too Big Tele-Seminar, co-author of Goals 2009 and together with Zig Ziglar, Brian Tracy, Mark Victor Hansen and others, he is one of the contributing authors of the best-selling Walking with the Wise (Mentors Publications, 2003). Along with Jim Rohn, Brian Tracy, Denis Waitley and others, he is one of the featured speakers on the 12-DVD collection, The Jim Rohn Weekend Leadership Event. His book, Day by Day with James Allen (Sylvia's Foundation, 2003), sold more that 50,000 copies in its first year of release; is five-gold star rated at Amazon.com, and has been released in Japanese.