Jim Rohn and The New Challenge To Succeed
Before he passed away in December 2009, Jim Rohn had influenced more than 5 million people in all corners of the world. He was counted as a mentor by thousands including the likes of Tony Robbins, Les Brown, Mark Victor Hansen and others.

Jim was one of the most powerful and memorable listening experiences ever because he could take timeless, ageless principles and present them in such a simple way.

Tony Robbins, who first met Jim Rohn when he was 19-years old, said Jim, "had a positive impact on me at a time in my life when I was first forming the philosophies that guide me today."
Some of Jim's Best Known Wisdom
The Five Major Pieces of the Life Puzzle
An Extraordinary Challenge to Be Successful in All the Dimensions of Your Life
How to Develop an Educated Attitude
Discovering the 'Bottom Line'
The Art of Living Well
The Power of Personal Development
How to Become More Than You Are
Attracting More of What You Want
How to Make the Changes to Become More Than Average
Personal Skills to Reach Your Potential
The Day That Turns Your Life Around
Examine the Incredible Effect of Emotions on Your Life
Turning Your Emotions Into Profit and Activity
How To Fine Tune Thinking Habits
Here's a Youtube video review of Jim Rohn's first Kindle book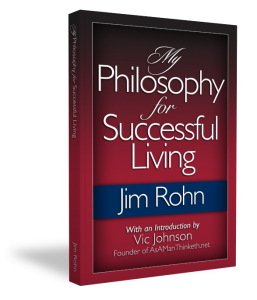 How To Get A Print Version of Jim's Book FREE
Here is a special publisher's marketing test where you can get a free print copy of My Philosophy For Successful Living. It's an Amazon Best Seller and it's FREE (there is a very small s&h fee).