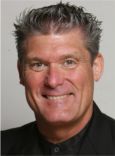 Look around you. Everything you see right now was once somebody's dream.

Maybe you're viewing this website using Michael Dell's dream (that uses an operating system that was Bill Gates' dream). You're hooked up to Bell's dream and you might be drinking Pemberton's dream.

You're surrounded by dreams – Edison's, Gutenberg's, Marconi's, Walton's, Wright's, and on and on and on. The one certain commonality among all people of achievement is that they are "dream-driven."

And, likewise, the one certain commonality among that huge mass that Thoreau said "lead lives of quiet desperation" is that they are "dream-deficient." As it's been said, "most people die at 25 and we bury their bodies 40 years later."

What happens to our dreams of childhood, adolescence and even young adulthood? LIFE! As it exacts its toll we have a way of rationalizing away even our most cherished dreams, while we settle in with our "settle-for" mentality.

Look closely at the faces on the road in the morning. It doesn't take a rocket scientist or a degreed psychologist to figure out that they're not on the way to their "dream job."

What about you?
Are you headed for your "dream job" in the morning?

Had a Big Dream but lost it?

Never had a Big Dream?

Have a Big Dream but don't know what to do next?
Now you can join Master Dream Builder Vic Johnson as he teaches that there is No Dream Too Big™. This four hour tele-seminar, recorded before a live audience, will help you re-discover (or uncover for the first time) the incredible power you have to design and live your life around your dreams.
Paraphrasing a popular Wayne Dyer expression, Vic says, "There is no scarcity of opportunity to live your dreams; there's only a scarcity of resolve to make it happen."
Here's just a few of the things you'll learn :
Uncovering the BIG DREAM in your life

How to apply B.I.G. thinking to bring life to any DREAM

Attracting the "right people" into your life to help you achieve your DREAM

Why Napoleon Hill dedicated two entire chapters in his classic "Think and Grow Rich" to the subjects of DESIRE and IMAGINATION

Why you can't realize a DREAM without clarity

How to set your goals high...and then EXCEED them!

Building a DREAM list of life goals

How to live your DREAM on the inside so you can experience it on the outside

Putting a broken DREAM back together

and there's more -- click here for a sample from the tele-seminar

click here for another sample

Three Sessions to Living a BIG DREAM:

Lesson One: Trading the Nightmare for the Dream
Lesson Two: Living Your Life Living Your Dream

Lesson Three: Designing Your Dream Life