Just Released - SAVE 10% With This Introductory Offer of our Exclusive eBook Edition of Conquer Fear!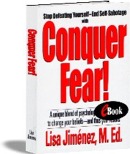 The biggest barrier that most people have to overcome is fear. Fear of rejection. Fear of making decisions. Fear of change. Fear of failure. And, of course, the big one - fear of success! It is this fear (and all of its cousins, like worry, anxiety, and self-doubt) that paralyzes you and keeps you from succeeding.

Conquer Fear! will give you a practical action plan to confront your fear, accept it, and be free to get on with creating and achieving what you want!

This book retails for $27 in hardback. Brought to you in an exclusive eBook edition at just $14.95.

Click here for a preview

Order Now and Pay Just $13.46 - 10% OFF


Here's what Bob Proctor said: "Lisa Jimenez deserves a medal for writing this book. It will free millions of people from a self-imposed prison...I've ordered the first hundred off the press for my loved ones."

Here's what one of our subscribers said: "Holy fantasia. NOW you've done it. NOW you've found a jewel. This book is drilling down into the pulp where the blood really flows. It hurts like the dickens, but she's telling us the truth in a way that
I've never seen before. She keeps reaching out of the book and slapping me on the face...HARD." - Beverly Kurtin, Ph.D.

Recommended
Resources

Jim Rohn



Think & Grow Rich

MP3 Motivators

The Science of Getting Rich

Thought for the Day


Emmet Fox

Conquer Fear!
Bob Proctor

Denis Waitley

Earl Nightingale

Sylvia's Love


Other Links

Click for audio help