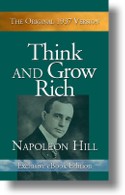 Think and Grow Rich
(Paperback - Original Edition)
Napoleon Hill (Author)

(all reviews)
---
---
Customers Who Bought This Item Also Bought:
---
Editorial Reviews
Review
Think and Grow Rich is a motivational personal development and self-help book written by Napoleon Hill (regarded as one of the great writers on success) and inspired by a suggestion from Scottish-American businessman Andrew Carnegie. It was first published in 1937 during the Great Depression. It remains the biggest seller of Napoleon Hill's books - a perennial best-seller after 70 years. BusinessWeek Magazine's Best-Seller List ranked Think and Grow Rich as the sixth best-selling paperback business book 70 years after it was first published. - Wikipedia
Product Description
Think and Grow Rich is the top selling success book of all-time. Cited by many present day success teachers as the book that got them started. Think and Grow Rich has created more millionaires since 1937 than any other book or program. It includes
The simple nightly routine that will change your life...without any effort on your part

Ten weaknesses that block your success and how to easily overcome them

The two Laws of your heredity...and how they affect your confidence

How to stop a poverty consciousness from affecting your health

The shocking truth about the savings of 98% of people and how to guarantee your move into the 2%

A surprising way that you can get ideas off of the ground when you have little or no money

Why knowledge alone is not enough for you to be a success -- the secret ingredient you already possess if you know how to unlock it
---
Product Details
Paperback: 272 pages
Publisher: No Dream Too Big LLC
Edition: Original Edition
Language: English
Product Dimensions: 8.5 x 5.5 x 1 inches
Shipping Weight: 15 ounces (View shipping rates)
Average Customer Review:

---

I take it with me everywhere I go.
By Bob Proctor, star of the hit movie, The Secret

"I've been studying Think and Grow Rich for more than 40 years. I take it with me everywhere I go. It took me from being a $6,000 a year fireman to more than a million dollars a few years later."



it made me a millionaire -- starting from nothing.
By Brian Tracy, best selling author and speaker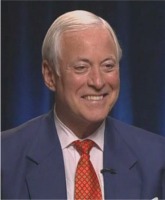 "This is the best single book on personal success ever written; it made me a millionaire --starting from nothing."

It gave me a new lease on life
By S.Truett Cathy, Founder, Chairman and CEO of Chick-fil-A, Inc.
"It gave me a new lease on life when I realized I could do anything if I had the desire and believed I could achieve my goals."

I owe my success to this...
By William Wrigley Jr., Founder, Wrigley's Chewing Gum
"Whatever success I may have attained I owe, entirely, to the application of your 17 fundamental principles of the Law of Success. I believe I have the honor of being your first student."
Buy it now




Add to Cart